Mens "Darkin" Cotton Dress Shirt - Green/Black Paisley Yoke - [Code 8018D]
These Brigalow Mens 100% Cotton Shirts are built tough to last! One of our flagship shirts, these 8018 Mens shirts are cut with the horse rider in mind these shirts featuring longer sleeves, adjustable cuffs, and a long shirt tail. Even even if you don't ride, you'll appreciate the extra room whether you're in the boardroom or the bullpen. Snap closures replace buttons on this shirt for added convenience. These shirts breathe well and are extra durable, and hold their bright vibrant colour over time.
Product : Mens Black Shirt with Green/Black Paisly Shoulders
Product Code: 8018D
(8018D)
| | |
| --- | --- |
| SKU | 8018D |
| Brand | Brigalow |
| Shipping Weight | 0.5000kg |
Shirts
Where to measure:
The measurements below are the measurements of the shirt itself.
We recommend choosing a shirt that you already own that fits you well and comparing the measurements of that shirt against the chart below.
A: Chest/Bust - measure the whole way around widest part of the bust
B: Shoulders - measure from widest points
C: Length Of Shirt - this measurement will help you indicate the length of shirt with tails
D: Outer Sleeve - measure from shoulder seam (arc of shoulder) to wrist joint (end of cuff position)
E: Neck - measure circumference of shirts neck hole
F: Cuff 1st Position - measurement of cuffs when done up in the loosest position (most of our shirts with snaps have double cuffs)
G: Cuff 2nd Position - measurement of cuffs when done up in the tighest position (most of our shirts with snaps have double cuffs)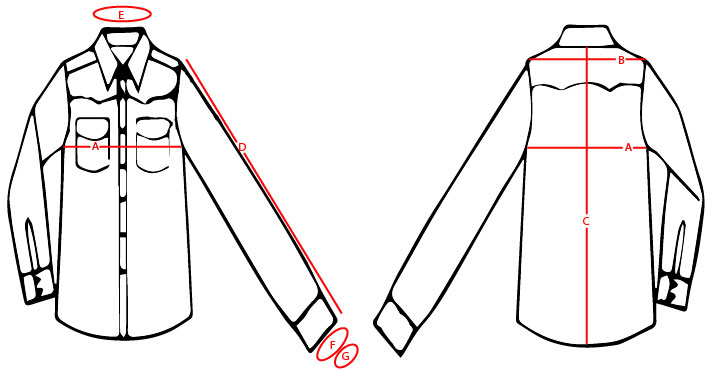 Mens Shirts:

Product Reviews